What is the most dog-friendly alarm system in Oklahoma City?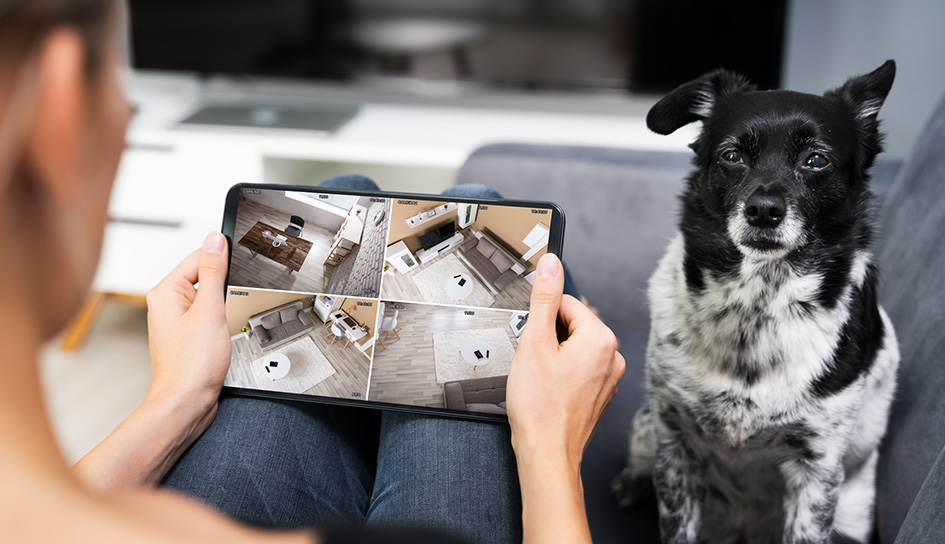 The steadfast companionship and joy a dog delivers to your family in Oklahoma City undeniably makes them a member of your family. Even so, some pets can set off sensors on some home security systems. And it stands to reason that the more substantial your dog is, the greater the chance they might be the reason for a false alarm. So wouldn't you find it nice if you could find a dog-friendly alarm system in Oklahoma City?
If you have a dog, you need to think about the various benefits found in Vivint's home security systems. First, you can rework the sensors to disregard spaces where your animals usually wander about. Then, utilize your indoor surveillance devices with high definition night vision and motion detection capacity to keep an eye on your pet. Third, your dog-friendly alarm system needs to be simple to use so you can swiftly engage and disengage the system as needed.
Set your sensors to account for your pet
Modern motion, door, and window sensors are more capable of adapting to pets than past options. Small dogs or cats shouldn't have any issue circumventing an unintentional sensor trip, as the system can adapt to them. More sizable dogs and rambunctious pets may have a greater chance of causing false alarms, but you are able to decrease that chance with a couple adjustments on the Vivint smartphone app.
Adjust the sensitivity levels of your motion detectors to low. You are also able to modify the amount of area covered by the device.
Place detectors away from heavily traveled areas, like your dog's pet bed or food dish.
Disengage your alarms with your mobile security app before you pull in the driveway -- especially if your pet is known to bound past your front door or nearby windows as you walk in.
Program a smart light to activate to soothe an uneasy animal when it gets dark.
The ability to make these changes makes Vivint the top pet-friendly home security system in Oklahoma City.
Turn to your indoor surveillance to maintain a watch on your dog
Indoor video cameras with 2-way talk are a great way for pet parents to check on their furry friends while working or traveling with your helpful mobile app. Your indoor cameras can even provide a video feed of your pet in low-light situations in full HD, so you're able to observe what's going on throughout the house without getting out of bed. Whenever your video components pick up abnormal motion, you are able to have a short video segment sent to your cell phone to determine if it's your dog or an intruder.
Anxiety is fairly normal for dogs and if that's the case with your four-legged friend, Vivint cameras could be of assistance. When you find them starting to act up, soothe them via the two-way audio feature. They can detect your speech and understand that it's ok. In addition, if you see that they are troubled in a thunderstorm, you can remotely turn on a light to make things less intimidating.
The most dog-friendly home security system in Oklahoma City is simple to operate
All of the animal-friendly options are awesome, but they wouldn't help all that much if they were a challenge to manage. The nice thing about a smart home system like Vivint's is that all your features are both on your central hub interface and your cell phone app. So arrange your devices around your way of life -- and that includes your furry companions! All that is needed are some taps of your screen and you have your entire home security the way you want it.
Get your pet-friendly Vivint security system today!
Your home's defense shouldn't need to be an ordeal for your dogs. Rather, it should supply security while letting you keep a watch over your animal companions. Dial (405) 777-7501 or complete the form today!